Story contributed by David Leidl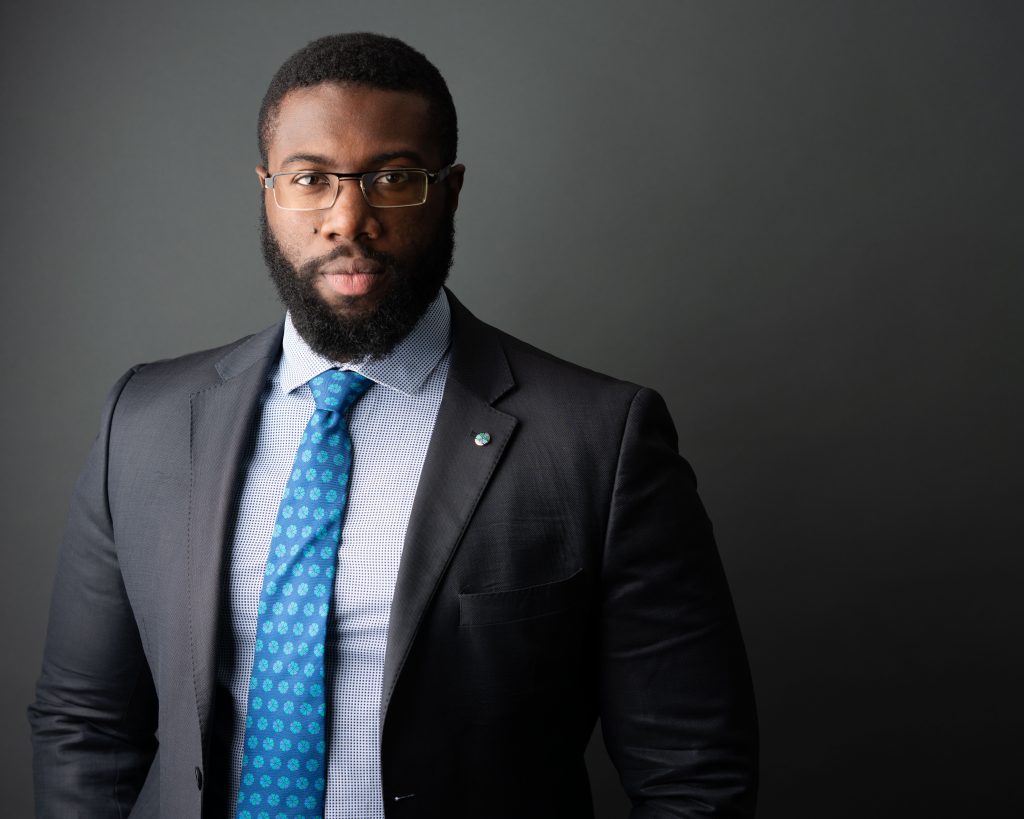 At 28 years old Kwame Boateng, CFA, UBCO  Bachelor of Management alumni and adjunct professor, is currently the youngest investment advisor and associate portfolio manager at B.C.-based investment firm Odlum Brown Limited's Kelowna branch. Recognized by the Kelowna Chamber of Commerce and sponsor BDO's 2018 Top 40 Under 40, he has a strong leadership role as the current president of CFA Society Okanagan, while balancing an active presence in Kelowna's community and performing arts scene and mentoring UBCO students in his spare time. If there ever was a role model for young management students, Boateng is it.
A Curious Turn of Events
Born in Ghana, Kwame Boateng is the second-oldest son of parents who moved to the United States when he was four months old in search of better opportunities. While on a student visa in Indiana, his father earned a PhD in silviculture and secured a work visa with a big national U.S. paper company. Sent to Maine, the small family was later transferred to South Carolina where, in the early to mid-2000s and about a decade into their new lives, the sector was ravaged by the mountain pine beetle epidemic and endemic layoffs. Recalls Boateng: "When there's no work, there's no visa." The stark realization of deportation began to sink in for his parents. "So we had to figure out a working solution."
Thankfully, his parents had long been preparing a contingency plan: permanent residency status in Canada. Boateng recalls his father receiving a job offer from a silviculture company in Salmon Arm, B.C. and at the "eleventh hour" residency status was approved. The small family was moving to Canada. Reflecting back, Boateng wonders "I don't know how my father was able to finesse it. I think he kind of knew what was going on earlier than he let on."
The family stayed in Salmon Arm for one year, moved to Lake Country for eight years and then Kelowna, lured by the work and educational opportunities where both Boateng and his mother earned their UBC undergraduate degrees in 2013, her in Nursing degree and him, Management.
While initially on a computer-science path, Boateng sensed it wasn't quite the right fit. "So I had been chatting with my dad and he was like, 'You have more of a business mind than you would a pure science. You should consider the management program and see where that takes you.'"
Boateng pivoted and began pursuing his Bachelor of Management degree. By his fourth year, Boateng was elected to the Management Student Association (MSA) as VP corporate relations. He credits the degree program for doing a very good job at "getting you out of your comfort zone in terms of presentation skills and trying to develop in you a natural curiosity about things and then thinking through the process of reaching an answer based off of that curiosity."
Innate curiosity and natural leadership led him to help start a portfolio management club with support from two professors. The idea, explains Boateng, was "just to give students an opportunity to think critically about investment decisions, think critically about how to analyze a business or a company and then think about whether or not it's worthwhile to invest."
The 'synthetic portfolio' ran for about a year but what Boateng retains from the experience were the "teachable aspects" that gave him a way to learn about the market in a competitive but fun environment. It was an opportunity to "take what you have learned already in your courses and give you some more direct practicable application that's also outside the general curriculum. Kind of cool, right?"
Being a part of the MSA also gave him his first big break. While pitching for community and industry sponsorships for the student association, Boateng so impressed the branch manager of the Kelowna branch of Odlum Brown Limited, he was offered a job upon graduation. For Boateng, the choice was easy; he settled in Kelowna where he felt he could pursue a healthy work/life balance and nurture client relationships in a tight-knit community — a community that was increasingly becoming a meaningful part of his life.
Branching Out into the Community
A large part of that work/life balance has been Boateng's lifelong love of the arts, and he actively pursues volunteer opportunities to "spread my horizons and see a different side of the artistic spectrum." Long time fan of the performing arts such as opera and the symphony, he found himself connecting with a steering member of Ballet Kelowna and joined The Barre, a unique membership program designed to enhance the Ballet Kelowna experience for young professionals, with the aim of upping the membership's younger demographic.
"I'm pretty sure I was there to round the committee out," Boateng smiles. "There are three females and I'm the only guy, so I think that has something to do with it." He has been active on the committee for more than a year and a half, and hopes to attract and build on a younger audience. "That type of social diversity, having an opportunity to experience the arts, whether it's ballet or opera, the symphony, whatever it might be, I think is very, very important. And it's important across all age spectrums."
"That type of social diversity, having an opportunity to experience the arts, whether it's ballet or opera, the symphony, whatever it might be, I think is very, very important. And it's important across all age spectrums."
Boateng has also kept close ties with his alma mater UBCO and has become an adjunct professor, guest lecturer and mentor to Faculty of Management students. Balanced against this, his busy role in the investment arena, where he believes having the practical chops — coupled with an innate, unfettered inquisitiveness — is crucial: "You have to be naturally curious about stuff in order to do this job well."
Boateng 'walks the walk' when getting out and engaging with community, clients and prospects. He is continually looking for opportunities to help build value and wealth locally for clients and the greater community.
"A big part of my career now involves actively prospecting," notes Boateng. "I have to generate my own business; I need to be able to find people and present the 'value proposition' in a way that's compelling." He smiles again. "It's a lot of fun."

In the Kelowna community, he sat on the board for CRIS Adaptive Adventures, supports and actively participates in numerous events such as the Ovarian Cancer Canada Walk of Hope, the CIBC Run for the Cure and co-leads the November Project Kelowna, which he detailed via #kwamedoingthings, a self-effacing report on social media he sought to make "as entertaining an experience to you as possible."
"Ultimately, we have a responsibility as people to our communities and our societies to try and make them better. If you don't come from an authentic perspective or background and if you don't have that kind of internal motivation to do good and to promote goodness in your community, what are you really doing?"
Looking back, Boateng says UBCO as a whole and instructors such as Norine Webster and Tamara Ebl taught him so much. In turn, the ongoing rigours of his career are teaching him more – all of it based on the bedrock of a loving upbringing and strong parental attitudes: "I came from a background where I was brought up believing or being told that you have to try 150 percent to stay in the same place as other people, and there is little margin for error. You have to present your best self at all times and you have to do things in an authentic manner because a), that's the only way that's sustainable and b), that's the most fulfilling way to live your life.
"Ultimately, we have a responsibility as people to our communities and our societies to try and make them better. If you don't come from an authentic perspective or background and if you don't have that kind of internal motivation to do good and to promote goodness in your community, what are you really doing?"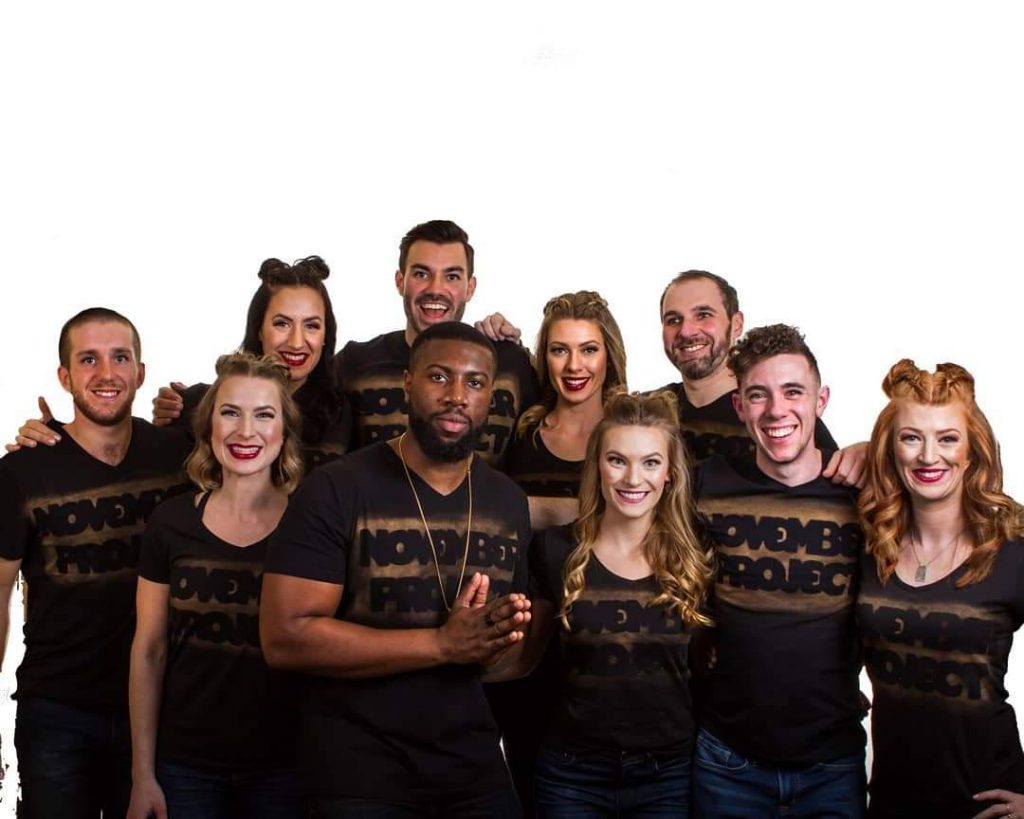 The November Project Group