Meet Linda Armano, Marie Curie Global Fellow in the Faculty of Management at UBCO and Università Ca' Foscari Venezia.
Tell us about your research.
I am taking an anthropological look at how people define the idea of "Canadian ethical diamonds"—all the wayfrom the Diavik mine in the Northwest Territories to a retail storefront in Milan, the only one in Italy that carries Diavik diamonds. Do the ways in which the diamonds are mined at their source align with consumer's view of ethics? Would they still consider them ethically mined if they understood the working conditions of miners? These are some of the questions I, and my collaborator Annamma Joy, in the UBCO Faculty of Management, are pursuing.
By interviewing all of the people involved along the chain—miners, managers, company executives, distributors, and customers—I am looking at how the concept of "ethical diamonds" is created and recognized by all the parties involved. As part of this work, I'm looking into the informal work practices of miners, to better understand how to improve and innovate working conditions of their extreme environments. My hope is that these concepts that can be applied to other industries involving extreme work environments.
What got you interested in this topic?
Anthropology has always been my biggest passion. It's an opportunity for me to meet people belonging to other cultures and learn about myself. Mining anthropology, and applying anthropology to consumer re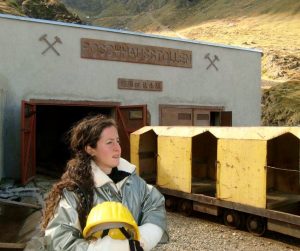 search, are two growing fields of research that I find fascinating. I first began to delve into this during my PhD in the Alpine region of Europe. After speaking with many European miners, I wanted to compare their cultural perceptions of the workplace with miners in other countries. In the Alps, miners work in silver, gold, iron, and copper mines. I also want to explore how people of different cultures interpret concepts of ethics, which is what brought me to Canada to explore the diamond mining here.
"Often, when it comes to sustainability and ethics, what consumers expect and what firms and management perceive are often at odds with one another. My work will, I hope, lead to new methods of conducting marketing and business research."
What is the most memorable moment from your time in the field?
 When I went to Yellowknife last September, it was so completely different from all the places I have visited throughout my life. Coming from Venice, I was eager to see the aurora borealis. I asked so many people how and where to see them that, after a week, people started calling me "the woman who waits for northern lights." When I finally did see them, it was amazing. I would wake up around 2 a.m and sit for hours on a hill near downtown. One night I also saw many shooting stars. It was wonderful, and this memory will always stay with me.
 How do you relax?
I like running and hiking, especially in the mountains. When my husband, nine-year-old daughter and I moved from Italy to Canada last year, we discovered so many different animals than what we have back home. We've had the chance to see bald eagles, deer, bighorn sheep, salmon, and moose. We were surprised (and scared!) one day when we saw a baby bear with its mother during a hike. We stood and waited as they passed before continuing our trek. It's important for me to involve my family in my research adventures. Moving to Canada has been a huge opportunity for my daughter to open her mind and experience different cultures.
What do you want to explore next?
 I would like to enhance m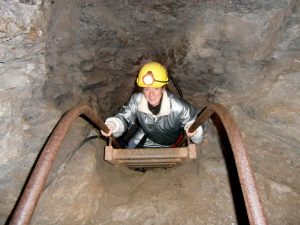 y knowledge and skills in Big Data analysis and apply an ethnographic method to data science. I am very interested in the creation of new methodologies and concepts in management research, and in contributing to ethnographic approaches in the context of industry.